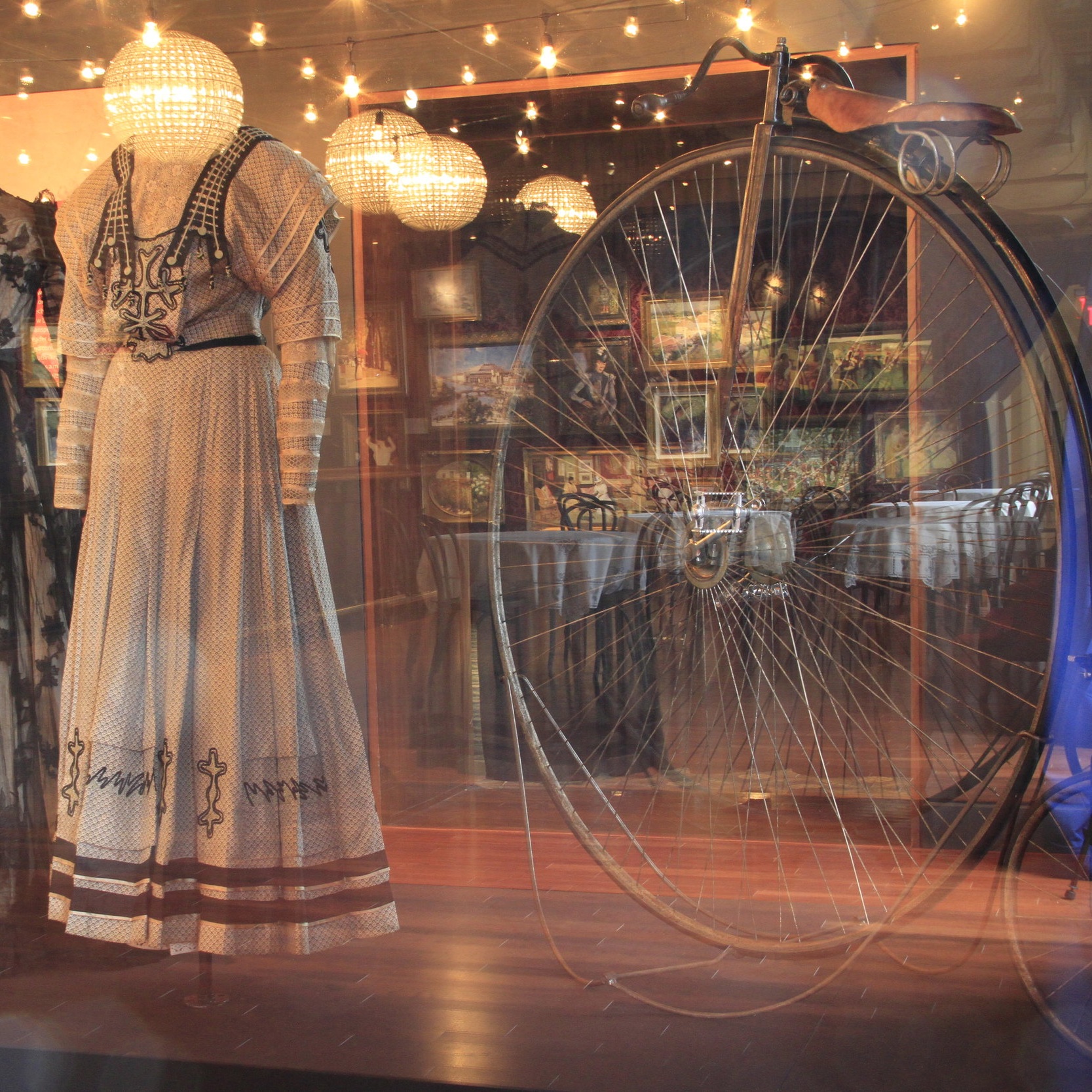 The Permanent Collection
The Frazier's permanent collection features a wide array of historically significant artifacts of American, American Indian, Asian, and European origin.
Rare and noteworthy objects include Teddy Roosevelt's "Big Stick," Geronimo's bow and arrows, a surplus grave marker from the Battle of Little Bighorn, a first edition copy of Uncle Tom's Cabin, and the arrest warrant issued for Mary Todd Lincoln.
The Bloedner Monument, which is thought to be the nation's oldest remaining Civil War monument, is being housed at the Frazier as a long-term loan.
Notable Objects & Loans
Teddy Roosevelt's "Big Stick," 1908
Note: this item is currently on loan to the Smithsonian's National Museum of American History in Washington, D.C. for the exhibit "Elephants and Us: Considering Extinction" (Nov. 1, 2019 – Sep. 13, 2020).
Holland & Holland, Ltd. (1835 – present). Royal grade double rifle with case and accessories, presented to Theodore Roosevelt (1858 – 1919), 1909. English (London), 1908. (Rifle) Engraved, blue and case-colored steel; gold and walnut; (case and accessories) oak, leather, and various media. Frazier History Museum Collection.
Created for then-U.S. President Teddy Roosevelt and gifted to him in January 1909, a few weeks shy of his departure from office, the so-called "Big Stick" is in fact a Holland & Holland double rifle. It is the most powerful gun Roosevelt ever owned.
Roosevelt used the rifle to hunt elephants, rhinoceros, buffalo, and other big game on a year-long safari in Africa. It later acquired the modern, unofficial nickname of "The Big Stick," from Roosevelt's famous quote "speak softly and carry a big stick," itself derived from a West African proverb.
Geronimo's Bow & Arrows, 19th c.
2nd floor, The Founder's Gallery.
Geronimo (1829 – 1909), attributed to. Self bow, quiver, and arrows. Chiricahua Apache, 19th century. (Bow) Wood, leather, paint, and cord; (quiver) leather, rawhide, wood, cord, and paint; (arrows) wood, stone, and feather. Frazier History Museum Collection.
On September 4, 1886, Geronimo, the famous Chiricahua Apache warrior, surrendered to the United States Army for the third and final time, this time to General Nelson A. Miles at Skeleton Canyon in Arizona Territory. According to a tradition dating to the beginning of the twentieth century, this bow and quiver of arrows was handed over at the time of the surrender.
Most of the Apaches in the Southwest had been forcibly relocated in 1875 to the San Carlos Reservation, a reserve set up in the harsh and malarial desert of the Gila River Bottom. But Geronimo had broken out repeatedly, helping other men, women, and children escape to freedom in the Sierra Madre. It would take a force of 5,000 soldiers — nearly a quarter of the whole U.S. Army — to compel his surrender.
2nd floor, "Border State: Kentucky and the Civil War."
Bloedner, August (1827 – 1872), carved by. 32nd Indiana Infantry Monument, installed at the site of the Battle of Rowlett's Station, Munfordville, Kentucky, 1862, and relocated to Cave Hill National Cemetery, Louisville, Kentucky, 1867. American (Munfordville, Kentucky), 1862. St. Genevieve limestone and Indiana limestone. On loan from the National Cemetery Administration (NCA), U.S. Department of Veterans Affairs.
The 32nd Indiana Infantry Monument, better known as the Bloedner Monument, has been housed at the Frazier since August 18, 2010.
Carved in January 1862, the 3,500-lb. limestone memorial features an eagle relief and a German-language inscription. It is believed to be the nation's oldest surviving Civil War monument.
Private August Bloedner of the 32nd Indiana Infantry, a Union regiment comprised entirely of German-American immigrants, carved the monument after the Battle of Rowlett's Station, which took place December 17, 1861 in Munfordville, Kentucky, to mark the interments of fellow soldiers who died there.
In 2010, the Frazier Museum obtained the monument through a long-term loan from the NCA. During museum hours, access to it is open to all members of the public free of charge.
The Boone Family's Bible, 1815
2nd floor, The Founder's Gallery.
Bible, said to have been purchased by Daniel Boone (1734 – 1820). American (Philadelphia, Pennsylvania), 1815. Paper and leather; (later) fabric. On loan from the Mildred V. Horn Foundation.
Although its direct tie to Daniel Boone cannot be proved conclusively, this bible does seem to have been held by his descendants at least since the late 1800s or early 1900s. The leather-bound volume includes handwritten entries of descendants' births, deaths, and marriages.
George Washington's Long Rifle, 1791
2nd floor.
Beck, John Philip (c. 1751/2 – 1811). Flintlock long rifle, believed presented to George Washington (1732 – 1799), 1791. Colonial American (Lebanon Township, Pennsylvania), 1791. Iron, brass, and maple. Frazier History Museum Collection.
This 5-foot-long, .44-caliber, Pennsylvania-style flintlock hunting rifle is the only long gun ever owned by U.S. President George Washington. Made by John Philip Beck in 1791 in Lebanon Township, Pennsylvania, it was likely presented to Washington as a gift at his Mount Vernon, Virginia estate later that year, judging by an inscription on the rifle's buttplate.
It was later "rediscovered" in the early 1920s in Pennsylvania, where it was purchased for $100. A private collector provided it for display at Independence Hall in Philadelphia in 1924, and it remained on display there until 1971.
It has never been used for military purposes.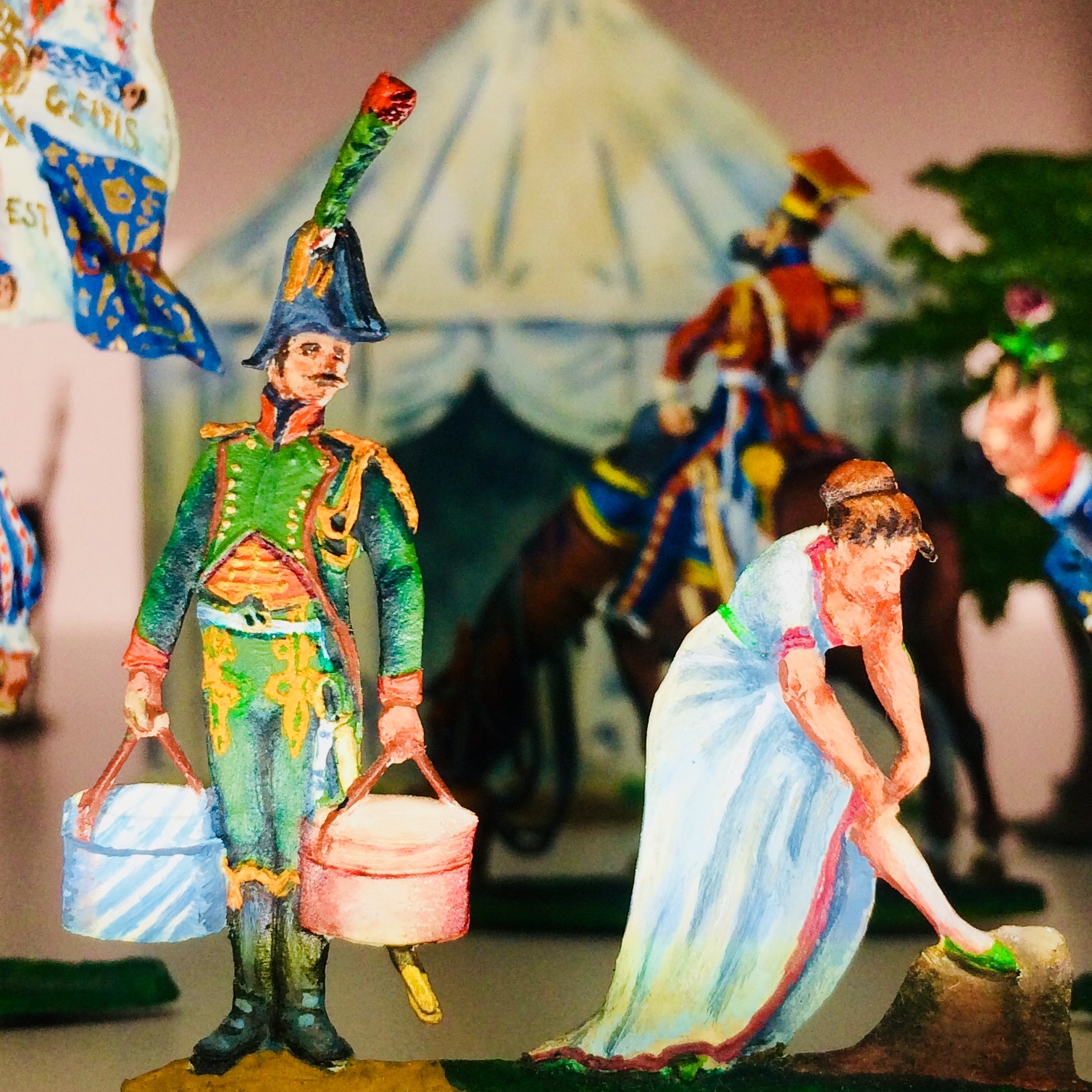 The Stewart Historic Miniatures Collection, c. 1770s – 2000s
2nd floor, The Stewart Historic Miniatures Gallery; 1st, 2nd, and 3rd floors, various.
The Charles W. Stewart Historic Miniatures Collection, better known as The Stewart Collection, constitutes "one of the finest collections of rare historic toy soldiers on permanent public display in the world today," according to Old Toy Soldier.
Donated in 2010 and exhibited publicly since December 10, 2011, the collection has grown substantially in the years since. As of 2019, it consists of about 30,000 figurines, vehicles, and accessories, over 10,000 of which are currently on display. Approximately 180 different makers are represented in the collection, including Courtenay, Heyde, Märklin, Mignot, M.I.M., Vertunni, and W. Britain.
Photo Usage Policy
The Frazier Museum allows the general public to photograph its facility and collections for noncommercial, personal, or academic purposes. Any reproduction or sale of such photographs without the advance written permission of the Frazier Museum is prohibited. Photographs must be taken without a flash, and tripods are not permitted in the galleries. Photography in certain exhibitions may be restricted.
For more information about our photo usage policy, click here.